A Message to the Community from ARISE's Leadership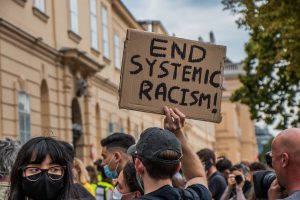 COVID-19 has laid bare the inequities and disparities in this country, with marginalized communities defined by race, age and disability suffering the brunt of the pandemic's brutal consequences.
Then a nation watched George Floyd die.
The hashtag slogans "We are all in this together" changed to "I can't breathe."
The racism at the core of Mr. Floyd's murder cannot be tolerated any longer.
ARISE is a civil rights organization with a focus on people with disabilities; we align with other organizations, communities and individuals in fighting for the equal rights of Black people.  We pledge to look inward to enhance our recruitment efforts and professional development opportunities to promote diversity among our leadership and staff.  We pledge to look inward to address the micro-aggressions that come from systemic privilege.  We pledge to look outward to support meaningful change so this nation indeed can be in this together.
As former President Barack Obama recently said, the actions of protests and voting are not "either/or" — they are "both/and."  The powerful rallies and protests we have witnessed across this nation will become more powerful when every person votes and supports candidates that will ignite change in our society.
Sincerely,
Tania Anderson, Chief Executive Officer
Kate Budlong, Director of Long Term Care Programs
Cassie Bulak, Chief Financial Officer
Lisa Finnerty Coggi, Quality Improvement Director
Betty DeFazio, Chief Development Officer
Jeremy Henderson, Finance Director
Kristen Jackson, Director of Community Programs & Services
Nina Lutz, Director of Independent Living Services
John Martin, Human Resources Director
Kristen Miguel, Director of Clinical Services