Ombudsman Program
What is the Ombudsman Program?
The Ombudsman Program is an advocacy program that protects the health, safety, welfare, and civil rights of people living in nursing homes and adult care facilities. Our Certified Ombudsmen advocate for residents' rights and ensure that their unmet needs and complaints are resolved.
What is an Ombudsman?
Ombudsman are trained and certified volunteer advocates who are passionate about the well-being of people living in nursing homes or adult care facilities. They can help resolve your complaints, provide information about your rights, and advocate on your behalf for high standards of quality care.
If you are interested in becoming an Ombudsman, please contact Jeff Parker at .
Volunteers Needed!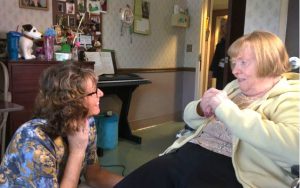 Seeking compassionate and dedicated volunteers to become certified, long-term care ombudsmen in Onondaga, Oswego, Cayuga, and Cortland counties.
As an ombudsman, you will have the opportunity to regularly visit a local nursing home or other adult care facility to advocate for residents and help ensure they are receiving quality, person-centered care.
Volunteers receive free training to become New York State Certified Ombudsmen.

If you are interested in becoming an ombudsman, please contact the Regional Ombudsman Coordinator at (315) 671-5108 or ombudsman@ariseinc.org to learn how to get started.