Nursing Home Peer Services & Support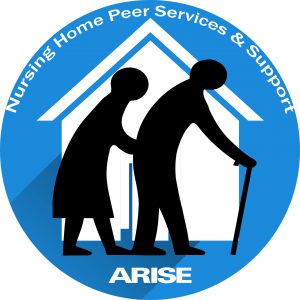 The Open Doors Peer Outreach Program at ARISE, serves four counties (Cayuga, Onondaga, Oswego and Madison), is for people who have lived in institutional setting and then moved to home and community based settings, and who have received services and support where they live.
How does the program work?
Download, complete and submit a referral to Open Doors Peer Services (see link to the right), which can be faxed directly to Juanita Clark-Abolafia at 315-510-4181.
A Peer Advocate will be assigned to visit nursing homes and developmental centers to share their experiences with residents and support people who want to move to the community.
Peer Advocates will work with residents to gain control over the choices that impact their life, such as:

Whether to move at all:
Where to live:
When and what to eat;
What to wear;
To call or visit family and friends;
Places to worship;
Temperature control;
Recreation:
Privacy and security of possessions;
When to shower and/or take a bath;
Uninterrupted sleep when you want;
Roommate or the choice not to have a roommate.
Open Doors Transition Center Program from NYAIL on Vimeo.