Inclusion for individuals: Auburn agency, Weedsport school partner on adaptive design projects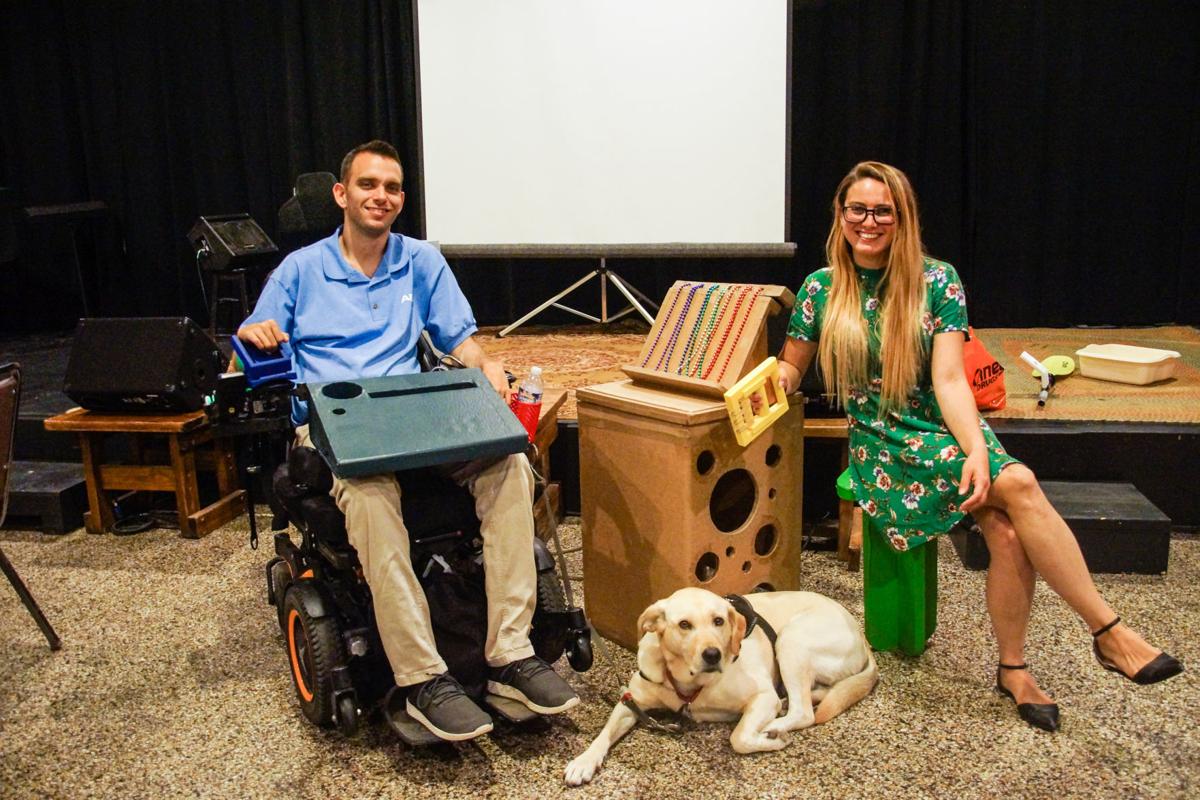 AUBURN — Nonprofit independent living center ARISE and Weedsport High School began dabbling in adaptive design independently about two years ago to create products to provide inclusion solutions for people with disabilities. Now, they've joined forces.
Their adaptive design efforts kicked off in Syracuse in early 2016 when the Adaptive Design Association, a nonprofit based in New York City, hosted a three-day conference in Syracuse upon the invitation of a doctor at Upstate University Hospital. Connor McGough — who was a freelance designer and adjunct professor at Syracuse University's School of Design at the time, and is now the program coordinator for ARISE Adaptive Design — attended the conference and began implementing what he learned with a couple other people.
Those volunteers began getting together in Syracuse to build adaptive design items, McGough said at an ARISE Adaptive Design presentation at Auburn Public Theater Thursday.
Around the same time, Alicia Bower, a technology teacher at Weedsport High School, was sharing ideas with Principal Brett Fingland on how students could utilize 3D printers to design adaptive items for people with disabilities. What started as an after-school program for a handful of dedicated students soon became a full-year class under the direction of Bower. Last year was its first year running, Bower said. Students learn the software for the 3D printers for the first half of the year, she explained, and use it to design equipment for people with disabilities for the second half.
Last November, ARISE noticed the potential impact of the volunteer adaptive design group McGough was a part of and brought him on board as the agency's adaptive design coordinator so he could dedicate all of his time to the program. At that time, McGough began partnering with Weedsport. He would often come into Bower's classes to talk about the needs of individuals with disabilities, and why the design work they were doing was important. Bower said this helped fuel excitement and purpose in her students.
As the students worked on their designs, McGough offered constructive criticism so they could refine them before printing the final product.
A lot of the items made in the past year were related to healthy living and eating, McGough explained, since the funding for the project came from the state Department of Health. The students worked together to design items like spherical objects with slits to help people cut fruits and vegetables, items to hold sandwich bags open, a hand-strengthening tool and a hydration system for an individual in a wheelchair.
Often, items start out from requests McGough receives from individuals. They also get to select their own paint colors and designs for the final product, making it unique to them. However, McGough explained, the products usually end up serving a much larger audience, as many people may share that individual's need.
"You've got a need, you qualify. We're here to try to work with individuals with disabilities," McGough said at the presentation.
Bower explained that, especially near the end of the year, students started to realize "that they were doing something bigger than themselves … it was really awesome to see them thinking outside of the box and outside of themselves."
McGough shared that the students even made him a phone holder and a cup holder that attach to his wheelchair. He said cup holders for wheelchairs are on the market, but can cost as much as $50.
"Many individuals can't receive the items they desperately need, including children, and these items come with a huge price tag. And insurance doesn't want to touch them, especially with children, because they're growing," McGough said. "A lot of these needs could be filled with simple materials and some creativeness and a willing group of volunteers."
While some items made in Bower's class are not intended for long-term use, they serve as prototypes for items that will be sent to ARISE to be fabricated on a more heavy-duty printer the agency is purchasing with a grant, McGough explained.
In addition to the connection with Weedsport's high school tech class, McGough also coordinates the design and building of larger items with volunteers at ARISE's Syracuse office. The printers have certain size restraints, he noted. McGough is also looking into having Weedsport students design pieces that could contribute to the larger items. The material most commonly used in the larger designs is industrial-strength cardboard, he said, and when they're constructed properly, the items can support a lot of weight.
McGough explained that one item ARISE is currently working on is a standing frame for a young girl. He said it helps with bone density and circulation, and allows children unable to stand on their own the opportunity to be eye-level with peers. In a medical catalog, standing frames cost about $1,000. ARISE Adaptive Design, however, currently makes them for free.
"The items we're creating are unique to the end user," McGough said. "The family or individual is at the center of the design team."
Families and individuals will express their needs, then designers and volunteers will create a solution. Individuals then also get to select their own paint colors and designs for the final product, making it truly unique in every way.
"You've got a need, you qualify. We're here to try to work with individuals with disabilities," McGough said near the close of the presentation.
Currently, McGough is working on creating a catalog with items that will be distributed in the community, nursing homes, physical therapy programs and occupational therapy programs. Right now, he is taking requests by email at cmcgough@ariseinc.org, but ARISE is also working to update its website, arisead.org, to accept requests there as well.