State Fair Memories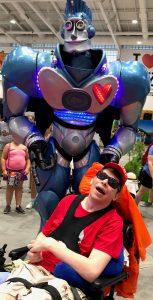 Since we won't be having the great NYS fair this year,  I thought I'd share some thoughts on what I experienced in 2019.  Normally I go to the fair at least once, last year I went on opening day.  I usually ride the bus from Shoppingtown but due to a different drop off point near the midway,  I decided to take my van.  As luck was with me, it stopped raining just as I emerged from the van at Gate 3.
Some of my usual stops are the Center of Progress Building,  the smallest NYS Park in the state,  the raptor demonstration, and NYS Police demonstrations to name a few. Some of the food I always plan on is a pulled pork sandwich topped with coleslaw,  chocolate milk and cheesecake from the dairy building,  and a tall fresh-squeezed glass of lemonade!
Last year I went into the new Expo Building and liked how big and air-conditioned it was. I saw something that I found very interesting,   it was a ten-foot-tall robot!  This robot was walking around talking to everyone, it was colorful and had a fun demeanor!  I was so interested in trying to figure out how a person would fit into the suit.  To this minute I can't quite picture how this worked out so well. (see picture)  It was the highlight of last year's fair for me!
What will be happening this year in the Orange Lot next to the fairgrounds are food vendors selling some of the most popular food items.  Pizza fritte,  sausage sandwiches,  deep-fried Oreos,  and wine slushies will be sold every weekend until Labor Day!! Also, drive-in movies will be shown on Friday nights too. So, this is some good news to get a bit of state fair fever satisfied.
Mike Theobald is a contributing writer to the ARISE Website and a part-time employee. His stories offer a unique perspective on life in Central New York.