Adaptive Design's Trip to Ecuador
ARISE Adaptive Design had an exciting end to 2019. In December, members of ARISE Adaptive Design, Local/Global Adaptive Design and SUNY Upstate's School of Physical Therapy traveled to Ecuador to meet with multiple organizations that provide services to those living with disabilities. The five days spent in Ecuador proved to be a truly enlightening, informative, and rewarding experience. Representing ARISE was Connor McGough, Adaptive Design Coordinator. Here is is first journal post:
During the first two and a half days of the trip, our team took part in a workshop at Prótesis Imbabura which is located in Ibarra, a
 city in northern Ecuador. This center was developed in 2008 by Bob and Kathy Frank who still run the program today. This particular organization specializes in
both prosthetics and adaptive equipment and serves around 350-400 clients per year. Our team met with some wonderful families and created some really incredible equipment! Hard to believe so much progress could be made in such a short period of time!
Connor's second journal post.
Throughout the second and third days of our trip we continued to make progress on some unique projects at Prótesis Imbabura.
Creating these adaptive devices and learning some new techniques was a blast. The workshop was filled with such great energy during these three days, with creativity and construction happening in every inch of the center!
We are so happy to have had this opportunity and to have the work we took part in go on to help the families we met. An enormous thank you to Kit and Bob Frank for their kind hospitality and guidance.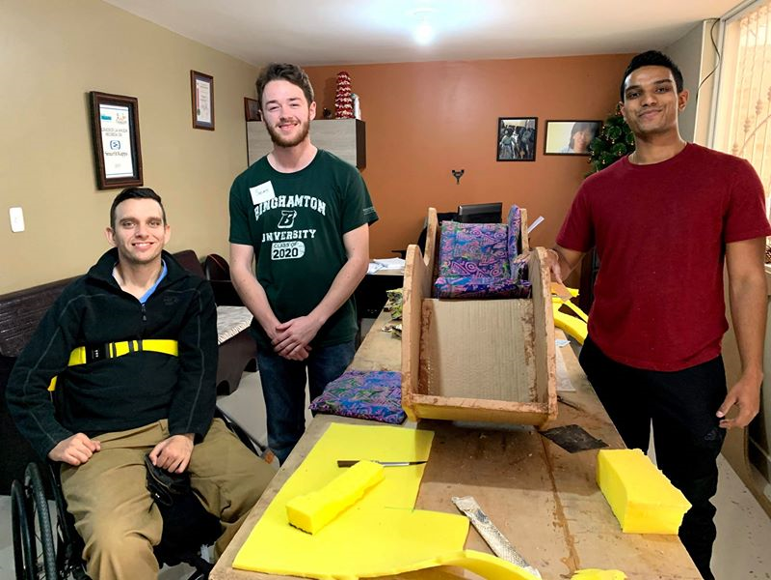 Connor's Travel Journal Post #3
Our team in Ecuador spent one day visiting and learning about the various centers of Fundación Tierra Nueva, a non-profit organization that was created in 1985 by Padre Jose Carollo, a visionary Italian priest who was recognized as a social and spiritual leader in Quito and in other cities of Ecuador.
Tierra Nueva provides services of health, education, attention for people with developmental disabilities, & social protection, especially aiming to help youth and families of low income, and reaching more than 500,000 individuals each year.
Padre Carollo dreamed of building a modern hospital in the south of Quito, where there is a high concentration of poverty. This dream was realized in 2010 and Hospital Padre Carollo currently serves thousands of patients each year. The mission is to provide low-income patients with affordable, high-quality health services, thus, the price of a medical consultation is $10.
Our team visited Fundación Tierra Nueva's two centers for children & adolescents with disabilities as well as Hospital Padre Carollo. After our visits we had the opportunity to meet with Marcela Cruz, the executive director of Fundación Tierra Nueva, to talk about how we can work together in 2020.
Click here more information about the ARISE Adaptive Design program.