Groups of Volunteers Join Forces to Help an Individual in Our Oswego Community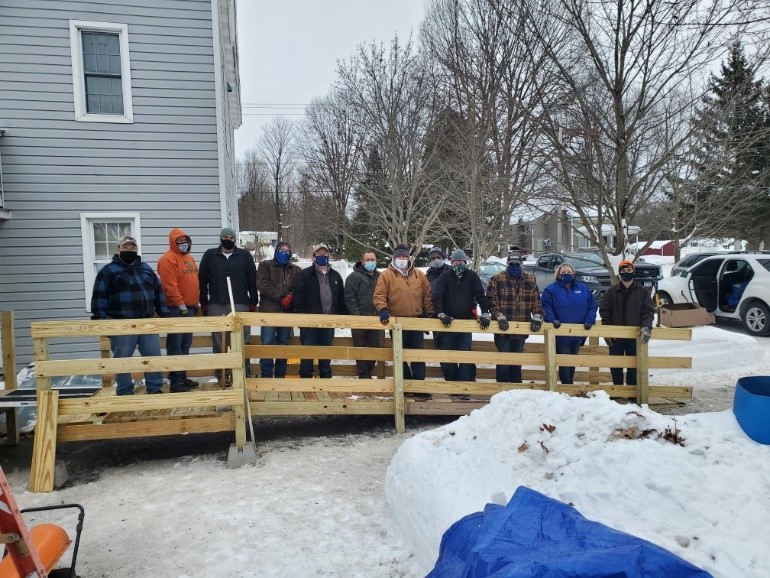 by Scott Pecoy, ARISE Ramp Coordinator
This new ramp will allow an Oswego county resident the freedom to stay active in the community and live an independent life. The ramp installation was made possible, thanks to volunteers from the Oswego Lowe's, the Mexico School Marine ROTC, the Community Alliance Church in Mexico, and family and friends who teamed up with ARISE to install the ramp.
Despite February temperatures, the ice, snow and frozen ground did not dampen the spirits of all the volunteers. This crew worked so well together you would think they had been working together for years! They were all joking with each other and the winter conditions didn't seem to affect their work. There was a lot of moral support! Before we knew it, the last screws were being driven in and the tools were being put away. This had been a great time of team building, increasing new friendships, and a wonderful experience of community stewardship.
ARISE appreciates this local group of volunteers that shared their time and talents to make this happen! On behalf of the ARISE Ramp Program, thank you to every person that showed up to lend a helping hand!
If any individual, group, or organization would like to volunteer and/or donate to the ARISE Ramp Program, please contact Scott Pecoy (ARISE Ramp Coordinator) at 315-602-4938 or Jim Karasek (ARISE Outreach Liaison) at 315-602-4931.